Floor cushions -the alternate accent!
Many a times we are bored of using cliché methodologies of decorating our homes. That doesn't necessarily mean replacing our furniture and stuffs all the time. The way out should not only be in sync with the current look and feel of a home but also inexpensive. Alternate accents come to our rescue. One such addition can be the floor cushions. In today's post, we highlight the beautiful homes with floor cushions for a better understanding of various ideas one can incorporate!
Whether it's a mix and match of patterns and textures…
Or similar ones.. they all seem to invite us to sit on them!
See, babies seem to love them too!
Who can say no to these square Moroccan ones!
How about including the floor cushions in your decor as main components?
How about including the floor cushions in your decor?
Silk floor cushions for your terrace party can be easy to arrange one!
We are loving these felt cushions but most suited during winters or when it's pouring out!
Learn how to create a new out of old with this DIY here!
Nothing matches the beauty of a little rustic touch to the whole decor affair. Check out the way the curtain is hung. The mismatched cushions and green side board adds to the charm!
Patterns contrasting white!
Large ones for a little extra time lazying around your garden.
Or some abstract art on the floor!
Add furry fluffiness for a serene cozy look.
Who would want to hop on to any couch when you have such pretty things as these floor cushions down on the floor!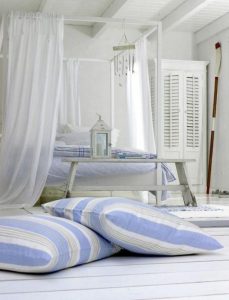 Whites and nautical, anyone?
Ending the post with this quiet, lighted room in neutral tones with round floor cushions.
Floor cushions best used around living rooms can also be placed in bedrooms or on the space by your windows. Wherever put, these not only look good but also bring us down to earth, literally!