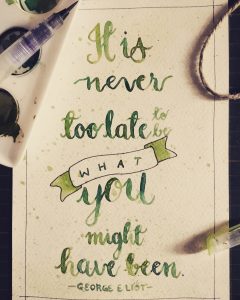 After many requests, today I'm finally going to share the story of my on going journey of handlettering or modern calligraphy as many call it. This is also going to be the first time I bring my work here on medesignwe. After many years of sharing home decor ideas with you all, as of this day, I have something to offer to your decor. Hopefully, it fits.
Sometimes  conincidences make you want to believe in god. Or something that's driving you to do something that you should be doing. It's so weird, yet so real and true. The journey of Handlettering has exactly been that for me. It must be dad, taking me by hand.
Around one, one and half years back, I thought to myself that now that my girl was big enough I can take out my drawer stricken stationeries and make use of them. Which by the way have mostly become useless. My brushes had all frayed, paints had dried, rulers gone bad. These nonetheless became treasure-thus-inherited for my lil one.
I had to order for stuffs, I thought I would initially require.
Words are very important to me. And that too good words. I was anyway fond of writing quotes for my posts. So I thought, I'll make a collection of those and create poster sorts. Scrolled through old posts, and there I had at least fifteen at hand, self written quotes.
While sitting on my desk one such morning, there was a flash on my social networking homepage of something similar. I was quite surprised, I never searched for anything like that, I never looked through internet for any inspiration, then how come such a sponsored post came my way. But soon realized, it wasn't just for anything. Through that video post, I came to know that the thing I was planning to work on has a name! Can you believe that?! It also has a way, that it should be done, apart for your personal style. I was taken aback. I realized it is a skill called handlettering that I need to master through constant practice. And thus began my handlettering journey, still quite unknown here in India.
And as they say 'practice makes progress', I can humbly say that it sure does. And with a design qualification at hand, I'm hoping I can keep it interesting.
You can go through my work on-
Pinterest at : medesignwe~
..for mere inspiration of words or if you want to custom order your own thoughts for your daily motivation or for my handlettering catalog, feel free to contact me.
Email: medesignwe@gmail.com
Mobile: 9871137779