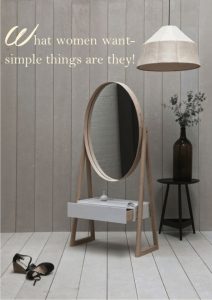 What women want – Simple home decor accents!
what women want is very simple if you can understand. She wants simple things of life, she wants things that could ease some pressure, things that could make her feel good always, or may be things that pamper her and make her look good. Things that revitalize her whole being- they are all found around home- simple things are they..
Look and feel
|1| Jewelry organizer- so that we don't forget to wear our faves at the right times. Goes unsaid the fact that we want lots of jewelries too- yeah, junk would do too!
|2| Now, this comes even before the jewelry organizer. It's one of the most important furniture piece for us- a dressing table with mirror. Would love this sleek piece for our home…
|3| No, we don't love organizers of any kind- they've to be good looking. Better if they are compartmentalized, better still if vintage.
|4| This is a must for the number of shoes & sandals we've- our own shoe rack. They have to be kept well and organized(you know we've to try them all when we are going out).
|5| We shall never say 'no' to a footrest or a foot massage for that matter. But for now, a footrest/ottoman would do. Another reason for loving an ottoman is that most of them come with a storage!
|6| Aroma Candles in our bathroom and we may go on & on. It works like wine for us- intoxicating yet revitalizing completely.
Work or Leisure
|7| We would never cease to look-up to Audrey Hepburn. And we would love to inspire ourself every morning sipping tea/coffee from our fave mug.
|8| A notice/bulletin board for random thoughts, cuttings, musings and photos. Loving this vintage board.
|9| We love succulents, and succulent with a tag- wow! We could love it anywhere- study table, dining table, kitchen, bathroom, it's our fave decor accent.
|10| On number ten but it's the most important thing we need. A space of our own- you may call it our work-space, home office or whatever. It may be big or small- but there has to be a corner where we can be ourselves and indulge in doing our own thing.
Its simple things that make a woman happy- all you need in an intention to make her so.